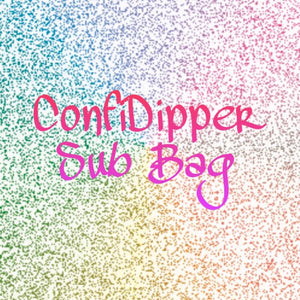 This is a Quarterly Sub Bag. You can choose to do a 1 time purchase or subscribe. If you choose to subscribe you are guaranteed a bag. Subscriptions ensure that every 3 Months you will recieve a new bag with New Exclusive dips.
ConfiDipper Sub Bags Include:
(3) .25 oz Exclusive Dips
1 sheet of custom nail decals (water slides or stickers) 
1 sample jar of Polymer Shapes and/or Glitter Shapes
Mini nail buffer
Nail File 
30% Off Discount Code for future purchase to use on Dip Powders.
Please note that if you include other items in your sub bag purchase, those items will not ship until your sub bag ships. October Sub bags will begin to ship out on October 16, 2023.
Discount/Coupon Codes cannot be used to purchase a ConfiDipper Sub Bag. If a Discount/Coupon code is used, the order will be cancelled and refunded. 
In order for your package to be insured and replaced if USPS loses or damages your sub bag, you MUST add Route Shipping Protection at check out for an additional $0.98 
*Sub Bag Purchases do not count towards the Freebie Of The Month                
 
*You may cancel your subscription with no fee or penalty. Canceling your subscription does not provide you a refund for any paid month(s), nor does it stop a charge due to process on the same date. Your cancellation will go into effect on your next payment billing date.